I was incredibly excited/nervous when an email landed in my inbox from the good folks at
Breakfast Television Edmonton
asking me to participate in a style challenge to mark the grand opening of Value Village in Sherwood Park (Big thanks to
Marie
for the name drop!).
I loved getting a sneak peek of the new store. Sherwood Park thrift shops usually have some gems (I can't believe they had gloves!) and this Value Village is no exception. They also had some really great jewellery, shoes and accessories. I wish I had been able to spend more time browsing, but of course, we were being timed!
I had such a blast with
Sandy Joe
and
Lébassé
- it seemed so much more like 6 gals shopping than a competition. Both of them have great style, and I really liked they outfits they came up with too.
The segment aired today on BT, but of course I have the hookup for you good people who don't live in Edmonton to watch it. I can't embed it (urgh) but here's where you can watch
part 1
,
part 2
,
part 3
and
part 4
.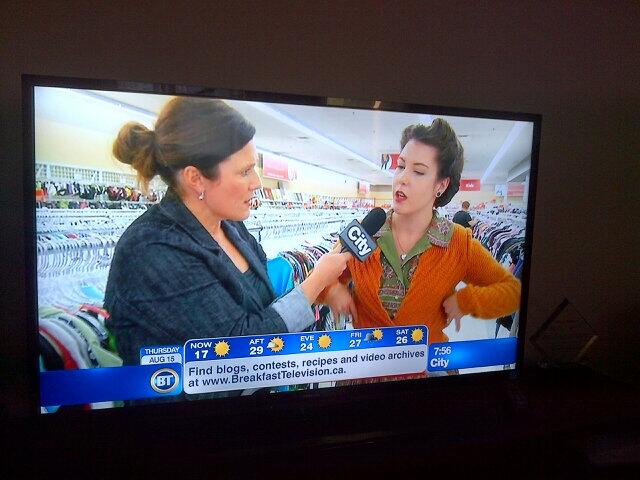 Photo by my darling friend Funmi. I look like a monkey.
To tell you the truth, I didn't watch it. I'm very hard on myself and I know that I would just cringe and fret over every little thing that came out of my mouth and every style choice I made (and am anyway - I am good at remember what makes me feel like crap) so I'm just putting it here for other people to "enjoy".
Best screen grab I could find of the outfit
If you like my outfit, please
vote
for me - voters could win a $50 gift card to Value Village. Sadly, the contest is only open to residents of Alberta :( Sorry non-locals!
If I win, I will get a $500 gift card to Value Village - can you imagine!?
I'd also like to thank the folks at Value Village for letting me take the dress home with me! I fell in love with the gorgeous print and was heartbroken to think I'd have to leave it behind.